TOP 3 WEDDING STYLES FOR 2017
Thursday, November 17, 2016
It's that time of the year when everyone in the wedding industry is hustlin like never before but it is also the time of the year when we realise that 2017 is just around the corner. No panic intended here! But if you are a 2017 bride, then that means it's time to make some decisions.
To do list....check, color palette....check.... style? If you haven't really decided what direction of styling you want, then you are in luck! Being in the industry means we get to see what's in and what's out and yes, we've listed our top three styles for next year that can also be your top three styles to pick for your big day!
BOHO/TROPICAL

If you're not a big fan of rustic but you want the whole vibe to be casual, fun and a bit hipsters. Insert monteral leaves, rugs and teepees. For this style, we recommend not going over with patterns but starting with a good base colour like white. Add accents of colour here and there through votives or cushions and even some accents of metallics. Transport your guests to another place with linen, big leafy greens and natural materials like bamboo just like a summer getaway.
BLACK


Bringing the sexy black back, 2017 will see more of this contemporary and modern salute to black and white. We love how the Scandinavian influence is making it's mark paired with any color really.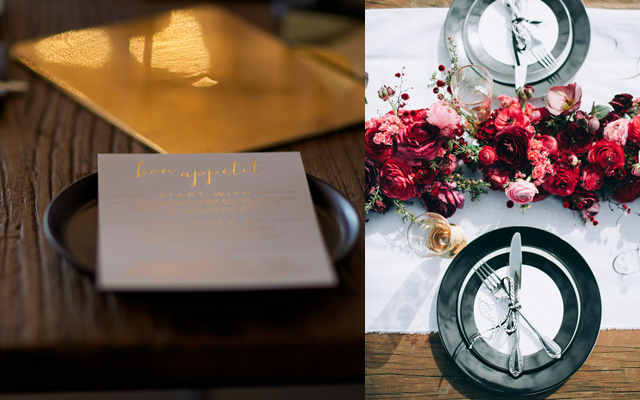 WIRE


Think decor and furniture. The wire look takes that industrial meets glam look to a whole new level. With people moving away from rustic and embracing more of a contemporary look, we are really excited to be using more of this style for our couples!


We definitely cannot wait to use more of these styles for 2017! So, out of the three, which style would you choose?
If you would like to know more on how to incorporate these elements in your events you can
get in touch with our team
or
subscribe to our newsletter
for more inspirations for you.