Vendor Feature: LoveField + Free Inspiration Cards
Tuesday, June 11, 2013
Hope all of you had a great long weekend cause we're not ending the loveliness there! We're starting the week with inspiration of colors and designs you'll instantly fall in love with. The lovely Lena from LoveField is here to share with us what Lovefield is about and a great way to start visualizing your big day!


Hi Lena, welcome to Ruffles & Bells! Can you tell us something about Lovefield and how it all started?
Lovefield started when i began to plan my own wedding i noticed that while there are a lot of beautiful stationery options out there, although a lot of it was very similar in style.
Seeing a gap in the market - i created LOVEFIELD - the wedding design studio ( an off shoot to my main design studio VISIONFIELD Design House ) to create sophisticated designer stationery, statement pieces ( banners & signage ) and new must have items ( such as our keepsake prints and luxe wedding logos ) that were in line with my distinctive style and created design options for brides who want to be bold, brave and beautiful. It's all about being able to embrace your own ( modern ) style on your big day.
How would best describe Lovefield's style when it comes to design?
LOVEFIELD has a completely modern sense of style - our designs are fashion-forward and colour-led. Our designs are typographic, full of texture or pattern and always have a modern edge.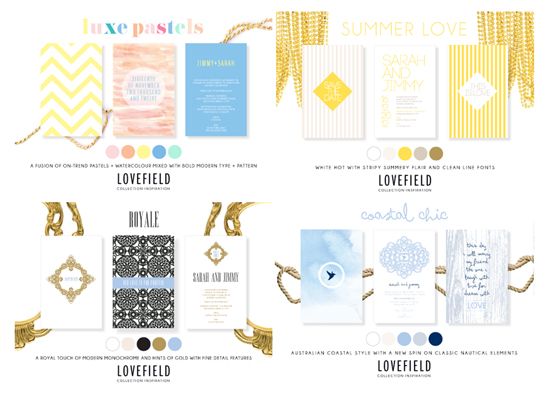 What would be your best advice for bride-to-be's out there on how to choose their stationery style?
To chose your stationery style - it's important to firstly create an overall theme for your wedding - create a mood board, or pin away on pinterest to create a visual style board on how you envisage your big day. This includes things like colour, dresses, flowers, decor, venue etc etc - once you do this your sense of style and theme will become clear and should reflect your own unique style and flair.
Once you do this - you will have a good base to then select your stationery which compliments your theme OR if you are ultra modern -
LOVEFIELD
can design your own exclusive stationery collection ( and on the day statement items ) especially for you, based on your brief ( or style board. )
I just love it when you can personalize things to your own style and Lovefield is definitely all about that. They've got personalized napkins, keepsake prints, banners, and even mini flags for those lil cupcakes or bonbonieres.
Lastly just for fun:
Favorite colour? at the moment it is fuschia ( this can change regularly! )
Favourite thing to do on weekends? spend quality time with my boys ( husband and 2 little ones ) either at the beach, or in the garden - this is closely followed by going out to dinner to a local restaurant to enjoy caprioskas…
Favourite fashion style? modern australian
Don't you just love the inspiration cards above? If you do, then you're in luck! Lovefield is sending you your choice of inspiration card to help you start your wedding planning. Just leave us a message here with the following details and we'll get in touch!
Name:
Contact number/email address:
How cool is that? Free inspiration cards lovelies!
For more inspirations for Lovefield, you can check out the shop
here
.
Website:
lovefield.com.au
Facebook:
facebook.com\lovefield
Stay inspired & colorful!
xx