Winner | Engagement Shoot Giveaway from R&B and LilElements
Wednesday, November 06, 2013
Finally! We are so happy to announce our winner for our engagement shoot giveaway! It has been such a pleasure to read all your love stories and go ga-ga over all the sweetness!

Congratulations again to Jayda & Paul!

Here's their sweet story:

"The two were struck by cupid's arrow after locking eyes at Hugo's Lounge in Sydney's Kings Cross on a Sunday evening. Paul was originally out with some friends for a couple of drinks, while Jayda was out with her friends for a farewell party. To sum up the night Paul and Jayda got more than they bargained for: a special type of LoVe that could (and will) last a lifetime.
The night the two love birds met Jayda was on a working holiday maker visa and Paul was organising his own business/ trying to find a new job. Unfortunately, this meant that after a few weeks of getting to know each other Jayda had to fly back to Canada to finish off her studies (e.g., 3 more years) and Paul had to stay in Australia due to work obligations.

Their time apart was a true test to their relationship and to say the least, their love conquered the distance.

After months apart from one another at a time and two years invested into their relationship, Jayda was finally accepted for a student exchange at the University of Sydney! This meant that Jayda and Paul could finally be together without having to put up with muffled/dropping-out telephone and Skype connections.

The next two years flew by quickly for Jayda and Paul and before they knew it, it was time for them to go back to Canada for a visit...which included a "surprise" proposal half-way through their trip.

On the day that Jayda graduated from UBCO, in Kelowna, BC, Paul had asked her parent's permission for their daughter's hand in marriage. (Luckily, Eusty-boy and Louise said "yes!".. and we're over the moon to welcome Paul into the family).

To Jayda's suprise the next day, along the beach in Kelowna, Paul popped down on one knee (nervous as could be) and asked Jayda, "will you marry me?", with the most beautiful diamond ring Jayda had ever seen! Jayda's response, filled with tremendous joy and love was answered with a huge: "of course!"To this day, their love for one another grows stronger, and wiser and they could not be happier to have found true love and the most amazing sort of friendship in one another."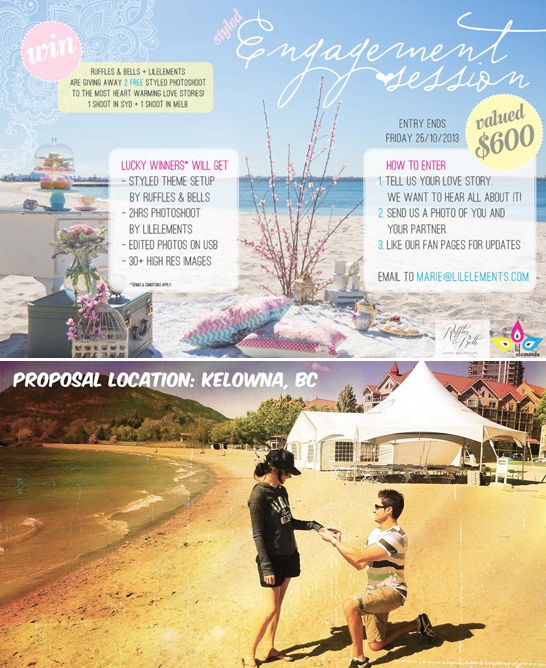 I am such a sucker for stories like theirs! Will keep you all posted on how we will be styling their engagement shoot very soon.