DIY Watercolor Flowers
Friday, March 15, 2013
Oh have I got treat for everyone today! I'm sure all of you is excited that it's weekend again but just in case you have nothing planned yet and you don't mind getting your hands dirty, today's DIY is perfect for you!


You'll be needing:
Pair of scissors
Paper
Paint of your choice
Rustic floral wire
Pliers
Glue gun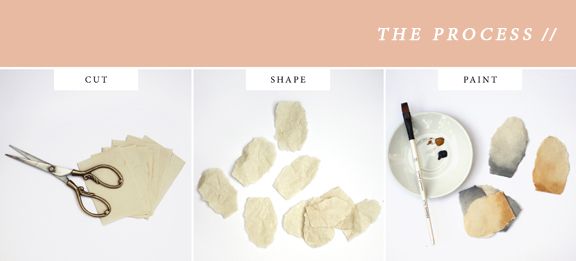 "First, you will need a pair of scissors and some paper. We used this natural fine paper from Paper Source. Cut about 10-12 rectangular pieces roughly 4″ X 2.5″ in size (larger for a larger flower, smaller for a smaller flower). You could then use your scissors to cut them all into the shape of petals, but we preferred tearing the paper by hand so that the edges were left rough and slightly frayed. They all don't have to be perfect. In fact, having them irregular looks even better in the end. After you are done shaping your petals, you'll want to paint them. We used Winsor & Newton watercolors in mustard, peach and grey. But use whatever color palette is inspiring to you! This is the part that allows you to get creative. Mix your paint with water and start painting your petals. I would suggest making the bottom portion of the petal darker, and then fading up to a lighter shade at the ends. Let the petals dry."

"Next you will need some rustic floral wire and some pliers. The wire will serve as your stem, so cut it to the length you desire. To create your flower, take the petals (they should be fully dry at this point) and begin wrapping them around the top of your stem using floral tape (not pictured) to secure them. We did 2 petals at a time. After you have attached all of your petals and your flower is full, it will need a "center" to cover up the exposed wire in the middle. We just twisted solid black paper into a small ball and used a glue gun to attached it to the center. We also added touches of black paint along the edges of our petals to give them a little definition."
"A fun trick for adding a little extra sparkle to the center of your flower : Cut a strip of metallic tissue paper and using shredding scissors, cut along the edge leaving at least a centimeter uncut. Roll it, metallic side facing in, around the top of your wire before you start attaching your petals. This will leave you with a pretty little pom in the center when you are finished!"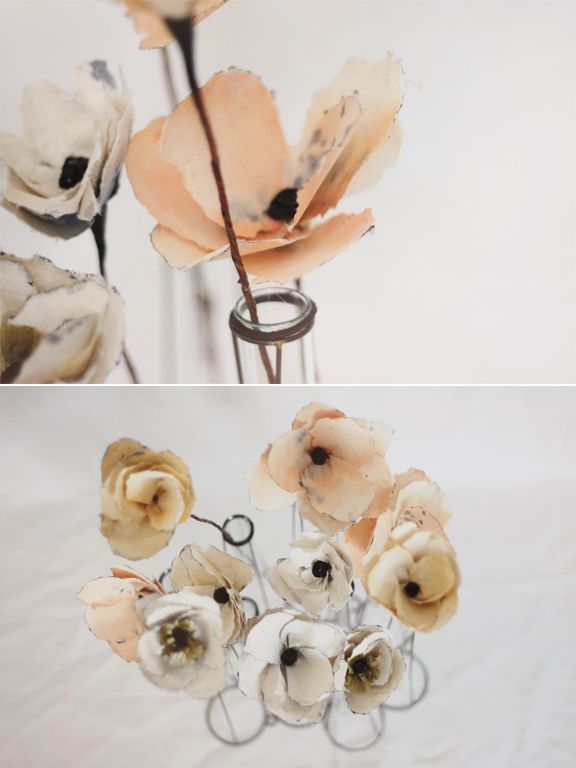 I am definitely amazed with this DIY. Imagine how perfect it would be for a rustic modern shoot right?
Source:
Kelli Murray's Blog
Happy weekend everyone!
xoxo