Telco Themed Will You Be
Tuesday, February 19, 2013
Hi lovelies! We are super excited with our post today because we'll finally get to reveal one of our projects after such a long time. Before we start, I'd like to give you some introduction first.
This is definitely not what I imagined I'd be doing in terms of styling but what the heck, I'm enjoying it too! I got to talk to Chel (the bride-to-be) after one photographer friend recommended my services for their engagement shoot and one thing just led to the other. First off, Allan & Chel wanted a telco themed wedding since they're both working for telco companies (yes, talk about dedication to your line of work). This was more than a challenge, to be honest, even though I worked before for a telco company too I never imagined to transform it into a wedding style.
Chel asked if I can make a custom made will-you-be card for them - with a telco theme of course. They wanted something techy and cool but still formal and matching their personality, there was sure to be something cute and quirky about it. After lots and lots of fun brainstorming with the couple and tons of color swatches after.....taaadaaa! Here's our final product!
Each will-you-be card is packaged as an "SMS message" which contains a corresponding QR code encrypting the couple's personal message to each of their bridal party member. As if QR codes isn't enough, a blue and green venn diagram with the initials A and C ties up the whole message.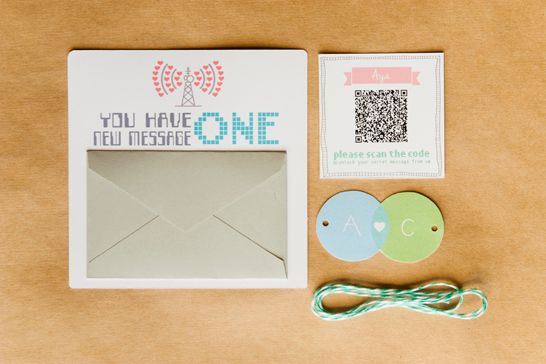 Such a unique theme from such a sweet couple! It was a great feeling seeing everything packaged and ready to go.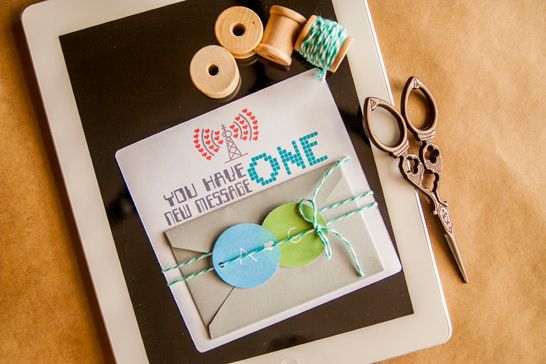 Oh by the way, today is Allan & Chel's monthsary too! I'd like to wish you both all the loveliness and sweetness for more years to come! Can't wait to be blown away with your wedding. Happy monthsary you two!!! <3
Ok, tata for now? Till the next post!
xoxo