Vendor Feature: Kraft & White Stationery and Paper Goods
Thursday, January 10, 2013
If it wasn't for pink or peach, I would have gone with white. Admittedly with home decors, I usually go with the clean-palette-serene-kind-of-interior. So yes, I was totally mesmerized when I saw a white-inspired organic stationery shop! I just had to know who's the genius behind it! Let me introduce to you , based in Melbourne, Stephanie from Kraft & White Stationery and Paper Goods:



Hi Stephanie! Welcome to Ruffles & Bells! For those who don't know you, can you tell us something about yourself?
I'm a mum to 2 little beauties, Brooke (6) and Jack (3). I am a wife to my wonderful husband Luke. Originally from England, I came to Australia in 2004 on a 1 year working holiday visa and met Luke in my last month here. We married in 2008 in Langkawi, Malaysia!
What gave you the inspiration to start Kraft & White Stationery?
I have had a passion for the wedding industry for a long time, I love everything involved with the planning of this beautiful event from the invitations, to the cake & flowers, to the dress and the event styling. Iv worked creatively with paper before and I love it. I decided to combine my style of simple, white & organic with my skills in design and paper art to create a range of whimsical wedding stationery. I feel as though there is so much choice for stationery design when it comes to layers of metallic card, satin ribbons & bling embellishments but not much for the less is more approach.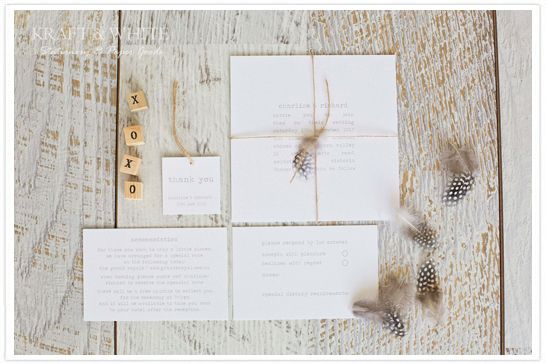 I love the clean palettes. How would you describe your style when it comes to stationery?
Hehe... guess I kind of answered that in the above answer. I'd definitely describe my style as simplistic, organic, whimsical & rustic! This is my style whether it be my stationery, fashion or interior design. My favourite colour... white! (if you hadn't guessed).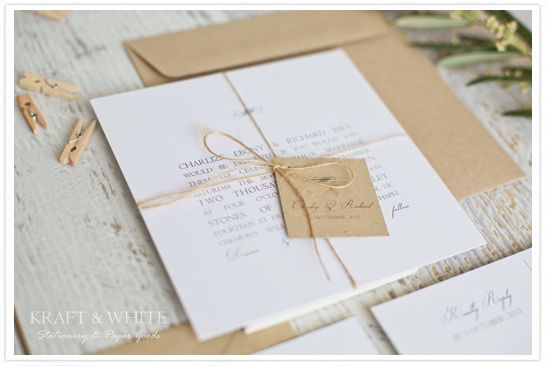 Can you share with us where you get your inspirations from?
The internet is an ocean of inspiration. Scandinavian design is a big inspiration for me. Of course I couldn't not mention
Pinterest
as an inspiration source. ;)
Lastly, what would be your advice to couples on choosing paper goods for the big day?
My first piece of advice would be to start looking early! I think the length of time it can take to complete a stationery order from start to finish can come as a bit of a surprise to brides & grooms to be.
Consider your theme for the big day and try to compliment it with your stationery. From your save the date all the way through to the wedding day stationery such as your menu cards and place cards.
Take time to think about the wording and let it reflect you and your personality.
Lastly, I highly recommend ordering stationery samples so that you can feel the quality of materials used. This is something that KRAFT & WHITE prides its self on!